It is often different than what you expected
The practice of restoration and renovation is unruly.
On May 14, 2017 the construction to realize DOMUSDELA started. Everyone knew there was still a long way to go before the doors could be opened once again. On the inevitable question when this would be, the answer was: November 2019. To reach this deadline, for months between 150 and 200 masons, carpenters, plumbers, roofers and other specialists from construction company Van de Ven from Veghel were working on the site. From beginning to end, the project was run by Herman Hooijmans. A real native from Veghel who, other than PSV, did not have much in common with Eindhoven. Now, this includes DOMUSDELA.

Different than you expected
Passionately Hooijmans talks about the construction at the 'Paterskerk', the Augustinianium and the student chapel. "I have a preference for old buildings. When you are busy, you can be surprised by something someone has imagined for you. Those things are often different than what you expected. It asks more of us than just reading drawings and building. Sometimes, a lot of creativity was needed to find a solution on the spot because the original plans were not possible. This was often done with the architect and client. Real customization."

Statue of Christ
Several specialists were needed to finish the job. For example, the restoration of the steeple. "There are only a few slaters in The Netherlands and this also applies to roofers who can work with lead and zinc. I am glad we were able to restore the steeple to its full glory. It has been in full scaffolds. Everything above the brickwork was restored, except the statue of Christ. That was still in a good state. It hasn't been cleaned either. If you clean everything, you remove the coat layer and this means that the layer of filth will only increase more than it was before. Eventually we decided to leave it just the way it is."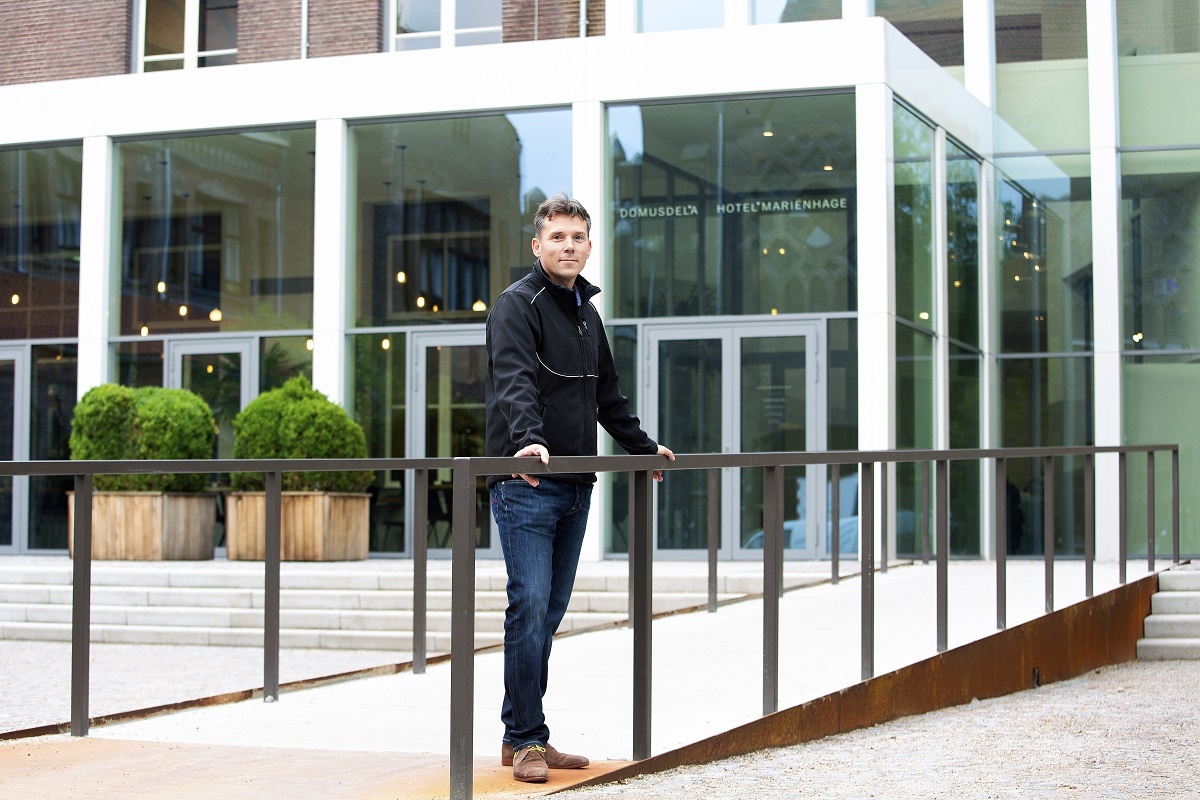 Everything is right
Hooijmans is satisfied with the result. "At first I wanted to keep more of the old visible in 'De Knoop', but now that it is finished I can see that everything is right. Yes, you really need an architect for that. Of course I really like the old church wall we found during construction in the Augustianium, but that is a gift, we didn't need to do anything for this. The most exciting part was 'De Knoop'. This piece of new construction had to fit between the already existing buildings. Everything had been measured in 3D, but in practice this proved to be quite unruly. Eventually it worked out and I think it works quite well! Another beauty is the altar on its new spot. Before we started this, I thought it would almost be carnivalesque, or fake, but the way it stands on its spot now is just right, even though you know that is not where it's supposed to be. You can get very close to it. That is a special experience. It is worth a visit and there aren't many people who have come this close to an altar before.

Old tiles
The favorite spot of Hooijmans is remarkably outside. "There are so many places I connected with during the construction. If I had to choose I would choose the courtyard. When you are standing there, with your back to the chapel, you see so many things. You can see the old closed monastery, the square that opens up the surroundings and above 'De Knoop' the Steeple towers with its statue of Christ. The sophistication of 'De Knoop' and the new pavement do something special with the old tiles and original colors that all appear fresh again. Old and new combined together. I find this very special, and I can see the boys sitting on the steps at the back entrance of the chapel and I always wondered if they saw this the same way I do. Or were they just sitting there and eating their sandwiches and drinking their coffee. I don't know, but for me that is best spot."