Taking a moment of silence at DOMUSDELA and taking the time to look around
Van Abbemuseum combines contemporary art with statues from the Paterskerk
Not that long ago it was just not done for a museum to display art in a different place than in the museum itself. This has changed. A modern museum is nog longer a looking box or mausoleum with beautiful works. It is also an archive from which the city and her residents can get in touch with the museum. There is a collaboration between Van Abbe and Piet Hein Eek. In his exposition room and living store at Strijp-S, a special place has been designed in which they show a constantly changing selection of works from the Van Abbemuseum. Works that are normally displayed in the museum can now be viewed and experienced in a completely different environment. The Van der Valk Hotel Eindhoven shows art from the Van Abbe collection and DOMUSDELA has been added to this list.
Old and new
In the Foyer, which is accessible through the Knoop and from which visitors can enter the church, a surprising compilation of old church images and modern art can be seen. The work has been chosen and put in place by Diana Franssen, curator of the Van Abbemuseum. "It was an exciting ride to pull this off," she explains in the business section of the Van Abbemuseum. "I am glad with the results. Originally there were five statues from the Paterskerk to work with, but two were eliminated because the fathers wanted to keep these. I am trained in contemporary art and had to freshen up my memory regarding symbolics and the meaning of church statues that were in their original environment. This helped and inspired me to choose from fitting works of arts from out collection."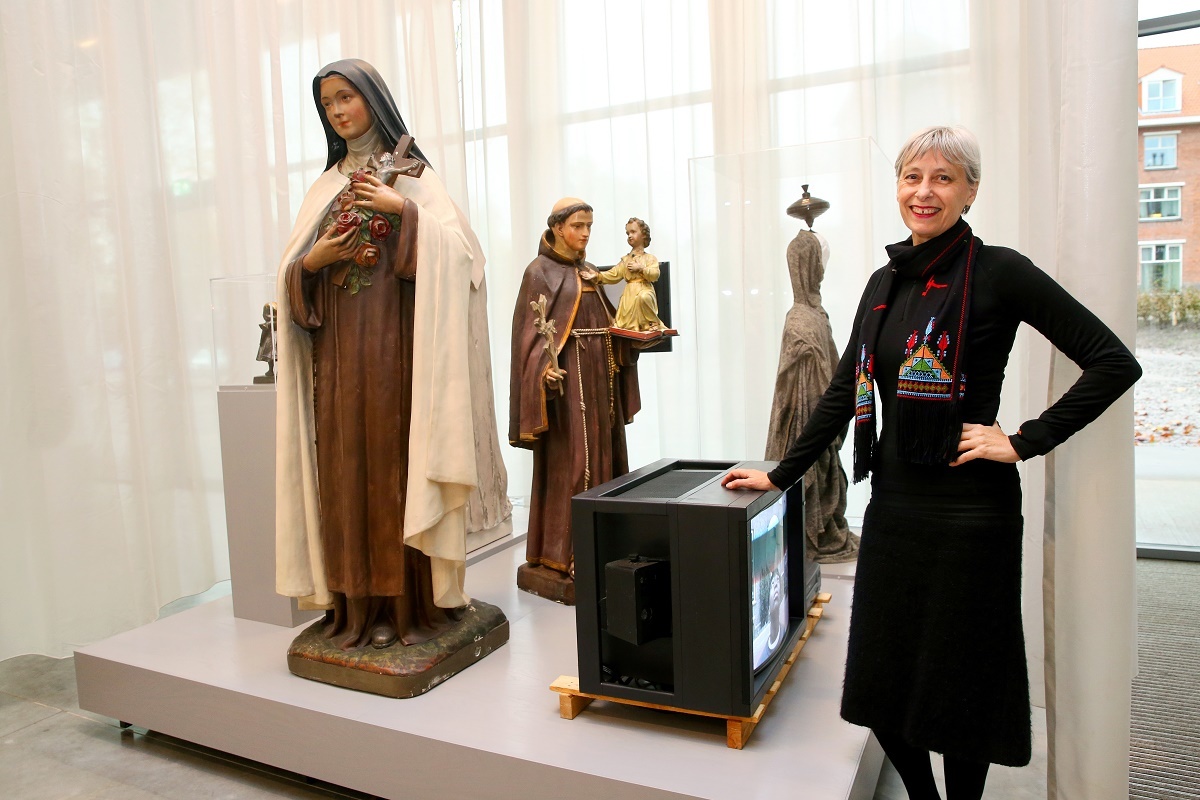 The playing human
What is remarkable of the three statues' symbolic is that as patron saints they all have something to do with the child. Child and play are closely connected. Homo Ludens (the playing human) from historici Johan Huizinga sprung to me as theme. Only in freedom, play can evolve and culture can develop. More layers are visible as can be seen in 'Idle Thoughts for Idle Men' from Henk Visch. The figure wears a draped cloak from old rags and on his head an old tol balances. A little humor and play come together in combination with preacher Antonius van Padua. A subtle reference to the Catholic church that often looks away when things get hard. The tol gives the statue a funny edge, or doesn't it, maybe it's someone with spinning thoughts? Someone who believes everything the preacher says? In the video 'Nathan Philips Square, a Winters Night Skating' from Mark Lewis a young couple can be seen making pirouettes on ice skates. While dancing they move together. It is a blossoming love, but something odd is happening. The background is moving at a different pace than the romantic couple. Does the artist play with our senses here? An older image from our collection is 'Girl with Ball' from Lambertus Zijl. A sweet and endearing girl that just stopped with her ball game. Whereas, in 'Football' from Marijke van Warmerdam the boy is completely enveloped in balancing the ball on his head, for over nine minutes. The monitor is placed on a wooden pallet and everything is visible, like it is a try-out. The repeating movements of the boy give a sense of absence of time. You hope he will endlessly go on and improves his personal record."

Really looking
The church statues can be seen from up close in their new setting. This also enables the visitors to see other things. The lace on the dress of Maria stands out. From the church benches this wasn't visible. "However, you can see one patron saint looking more devote than the other", Franssen goes on. "You can see even more details. By combining new and old together the religious statues become more modern and the modern statues become more religious. That is what I like. It is not exactly what you thought it was and that makes you look even closer. I hope the group of statues will do just that. This way, the visitor in the busy Foyer will start to wonder: what is the meaning of this? Then takes a moment of silence and takes a moment to look around."

Originating from the Paterskerk:
Theresa of the baby Jesus, a sacred from the nineteenth century. The secret of her holiness was 'the little way' the follow up from Jesus' command to become like children. She lived out of love for God and for other, in an authentic and complete way.

Saint Anne, the mother of Maria (mother of Jesus). She is the patron saint of church buildings, hospitals, schools and other instances and she is the patron of the stay-at-home moms.
Antonius of Padua, lived in the beginning of the thirteenth century as a preacher and is patron saint of many lost items, women and children, the poor, the marriage, travellers and lovers.

On loan from the Van Abbemuseum:
Idle Thoughts for Idle Men, Henk Visch (1992)
'Voetbal', Marijke van Warmerdam (1995)
'Meisje met Bal', Lambertus Zijl (1894)
Nathan Phillips Square, a Winters Night Skating, Mark Lewis (2009)